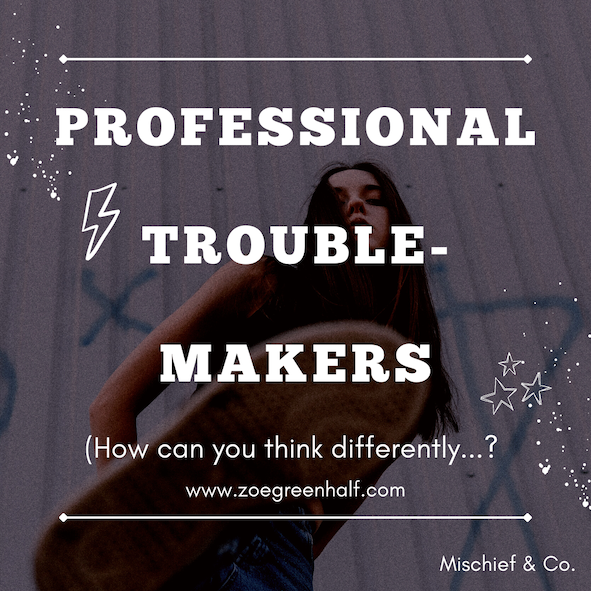 I have to tell you something. I'm in love with professional trouble-makers. Not the hooligan kind that disturbs and disrupts maliciously, solely for their own entertainment. No, I'm talking about the good guys, the rebels leading with kick-ass kindness who are changing the game for the rest of us…
Hiut Denim
What. A. Brand. But then again, what do you expect with a founder like David Hieatt? The man is a branding genius and one of the best examples I know of turning things on their head to make you think differently. This entire blog post was inspired by one of his amazing email newsletters this morning which I've screen-shot to share with you. Check this out for rebel-thinking: –
So what are they doing different? They've turned Black Friday on its head by creating 'the world's most expensive jeans in exchange for being able to plant 1 million trees. A bold move that made me smile so wide because it's exactly this type of risk-taking, experimental mischief that creates impact and social awareness. The day I read anything by David that feels safe and 'vanilla' will be a sure sign that something's seriously wrong.
Why share this?
Because it's brilliant. It's a shining example of the need to think differently, to stand out from the crowd, to stop following the masses and the trends we are exposed to daily on social media. What happened to being individual? Hiut Denim as a brand is a game changer because they do one thing well (denim) and they truly care about the people, the product and the planet plus their founder is the ultimate mischief-maker.
So, as you're sat there wondering whether you've used enough trending audios on your reels this month, or if you should be playing the same game as your competitors and colleagues, just ask yourself 'how could I do things differently, stand out and create a positive impact?'
Change the way you post on social media
Give your customers/followers something to really talk about and share
Try a new book for more ideas – Do Disrupt by Mark Shayler is a great place to start!
It might be the very move that's needed to spark something new and exciting and set you on the path towards professional trouble-making…in the best sense of course!
Hit me with your rebel moves, I want to hear them all!
Until next week guys. Keep making mischief.
Zoe x