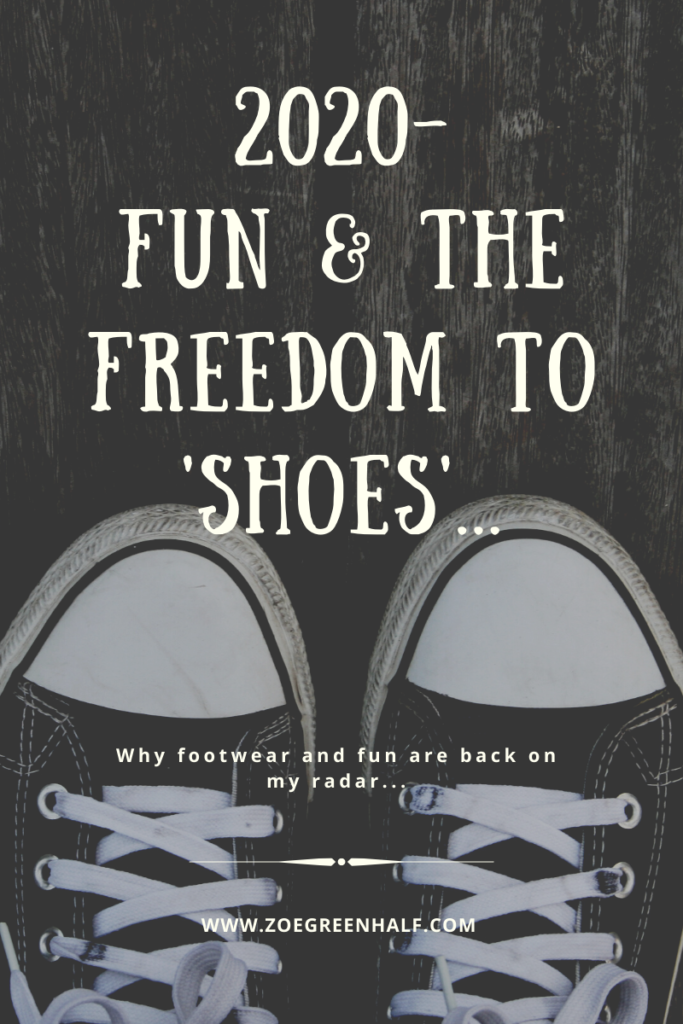 I make no apologies for the terrible pun. This time I am going back to my design roots and discussing footwear, freedom, flexibility and fun. And any other appropriate F word that may spring to mind in the process…
I started writing this blog post back at the beginning of January, (because y'know, best intentions etc), but wasn't convinced by my own words so it lingered precariously on my desktop, unpublished and unloved for a few weeks. The original idea was to talk about my 'word of the year for 2020', (because New Year's Resolutions are apparently sooo passé), which I've decided is F.U.N on the grounds that since I've become a parent, I feel as though my 'sensible hat' – the one that is responsible for being a 'proper grown-up' and worries about whether my children are getting enough fibre, exercise, stimulation for their cognitive development, family travel insurance, medical visits blah blah blah – is getting a little out of hand. I used to be less frazzled, more care-free and had a wicked sense of humour – or so I was told. Anyway, having spent some time with a wonderful coach these past few months, I'm pretty sure that it's time to bring back the fun and explore more of the things that set my soul on fire.
On that note, let's talk about SHOES.
That's just one of several things that really light me up. I LOVE leather goods, travel, rock music, festivals, a good fucking swear (when appropriate – see previous paragraph on my sensible hat), 70s fashion and retro design. But what I realised recently is that I've let my passion for footwear slip away from the party over the years and now I want to bring him back. I can't help but think that creative freedom and a potential new, flexible career could very well be linked to nurturing my passions so I've got to just stop sweating the small stuff and follow the fun.
Here's what I'm going to do. If I tell you of course, then I have to do it. It's like some passive form of accountability, of which you, the reader, are unknowingly participating in but I, the writer, must then follow through with, in order to not appear a total fraud. Or a loser. But as usual, I digress…
I am going to seize 2020 as my year of less thinking and more doing.
I'll start introducing shoes back into my life – buying them, researching them, drawing them, wearing those special ones that aren't suitable for every day on the SCHOOL RUN. YAAAAAS!!!!! to those sparkles and unthinkable heels.
I'll win back my footwear designer crown which I left rusting in a corner for a while, by getting some of my designs out into the world for REAL PEOPLE TO ACTUALLY SEE
And then I'll MAKE some proper shoes too – if my kids of course sleep long enough…
And that's how I'm bringing FUN to 2020. If the fun comes from footwear and I'm honing in on a passion, who knows where it will take me? Got any thoughts on this? Drop them in the comments below! It kind of excites me and that can only lead to good things right? Hello! Optimistic-Care-free-Wanderlust-Hat talking now. Be gone Sensible Hat – you clearly know nothing….
Zoe x